From Amanda Prestagiacomo, 3-30-17 at Daily Wire:
On Thursday afternoon, the United States Senate passed HJ Res. 43, which overturns an Obama Administration regulation forcing states to fund scandal-ridden abortion mill Planned Parenthood.
"Shortly before he left office, Obama pushed through an HHS regulation that essentially forces states to give Planned Parenthood Title X funding. Under this rule, states must give Planned Parenthood or abortionists Title X grants and may not choose to redirect those funds to comprehensive healthcare clinics," reports Life Site News.
Resolution 43 was sponsored by pro-life Republicans Rep. Diane Black and Senator Joni Ernst. The women bashed the Obama rule, calling it an "11th hour rule to entrench federal funding for Planned Parenthood – the nation's single largest provider of abortion."
We will "continue to work together this year to undo the damage done by the Obama administration," vowed the Republicans after Thursday's vote.
Pro-life group Susan B. Anthony List President Marjorie Dannenfelser applauded the passing of the resolution.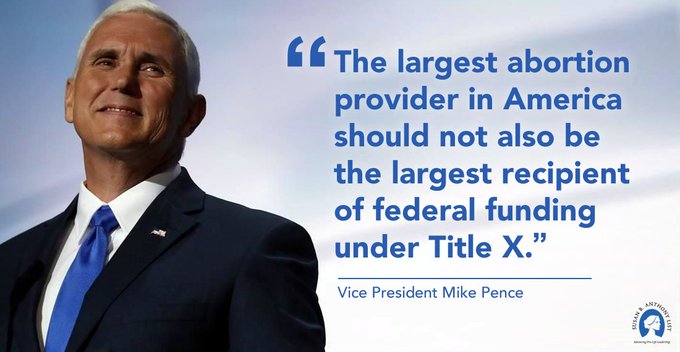 "We thank Senate Majority Leader McConnell and Sen. Joni Ernst for their leadership to advance H.J. Res. 43 in the Senate," said Dannenfelser. "Today's vote builds momentum for the effort to use reconciliation to redirect Planned Parenthood's largest source of government funding, Medicaid, to the nationwide network of community health centers."
Republican Senators Susan Collins and Lisa Murkowski both voted against the resolution, leaving Vice President Mike Pence to cast the tie-breaking vote, which ended up 51-50.
~~~~~~~~~
A number of websites are headlining this as a 'pro-life win' and maybe it is to some degree, but mostly it's just a way to stop a small portion of the funding that goes to Planned Parenthood. While this is a good move and it will save us millions of dollars on Title X grants, the bigger cause to celebrate will be if Congress ever stops the federal funding that's a part of the budget every year.
That decision is in the hands of Paul Ryan, who wants to separate the defunding of Planned Parenthood from the rest of the funding process for the federal government. He wants to use the reconciliation process because 'that gets it into law'.
"Reconciliation is the way to go," he stated, referring to a legislative process that prevents the Senate from filibustering legislation that doesn't impact federal debt. 
Right. Because it worked so well with his healthcare rewrite. We can only hope that his bill writing skills improve before that comes up.
In the meantime, kudos to VP Pence for casting the tie-breaking vote and killing this portion of Planned Parenthood funding.
~Kathy
---
---
Categories: Political